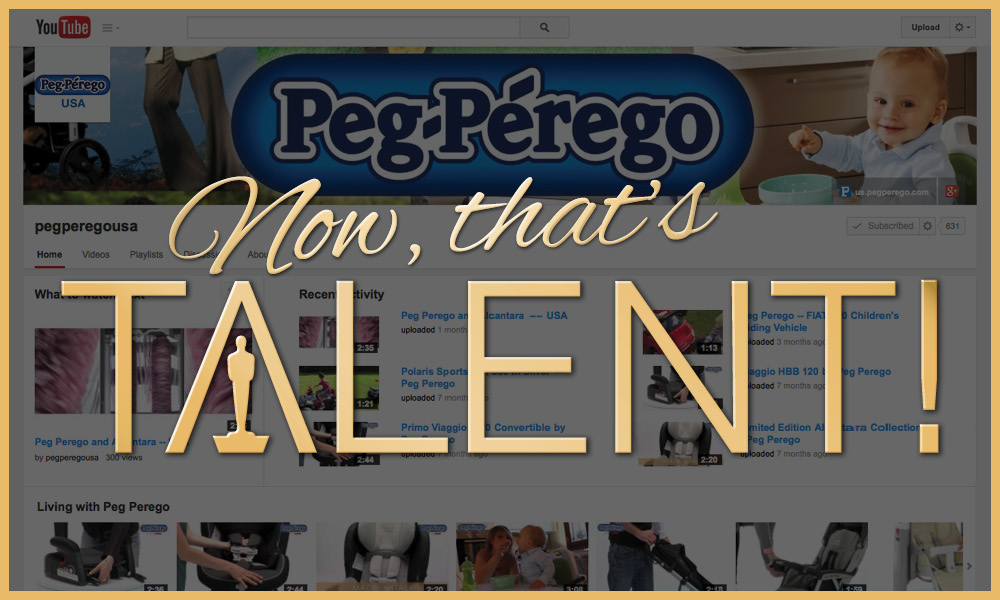 And the award goes to … Peg Perego, for Best Original Design and Best Functionality in a Leading Role! OK, so maybe we didn't take home any real Oscars, but the stars of Peg Perego are definitely out on video, and you can watch all the action on Peg Perego's very own YouTube channel.
Ever wonder how our latest, greatest designs look in 360 degrees? Or how easy they are to set up and use? It's all on the Peg Perego USA YouTube channel — we've filled the channel with dozens of baby gear demonstrations presented in an easy-to-follow, (dare we say) entertaining format.
You'll learn everything you need to know to help you choose the Peg Perego products and designs that best suit your lifestyle. Plus, you'll get the information you need to make a smart, informed purchase decision you'll be happy with.
Our newest video features the recently debuted Rialto, a lightweight booster seat that goes with and grows with your child. Watch a real-time demonstration of how easy it is to set up and take Rialto with you.
Considering the Primo Viaggio Convertible 5-70 car seat or its grown-up counterpart, the finely tailored Viaggio HBB 120 booster seat? Preview a play-by-play of the finer points of each versatile seat as they steal the limelight and show off their assets.
Want to learn more about how the Practico seat works with the Book Plus stroller? Press "play" to see how simple it is to convert your Book Plus into a toddler-friendly and -ready ride with the help of the portable Practico.
One of our favorite videos is a designers' tribute to Alcantara, a unique, ultra-plush textile used in high-end luxury goods. We fell in love with its innovative technology and supreme comfort and just had to incorporate it in our limited edition Prima Viaggio line. In elegant two-tone Pearl Grey, Alcantara has been a best-seller and a staff favorite.
Next time you're in the market for great Peg Perego gear or feel like skipping the product specs and user manual for more visual instruction, head to the Peg Perego USA YouTube channel at www.youtube.com/user/pegperegousa and prepare to be amazed!
blog_label_posted_in: News, Baby
blog comments powered by

Disqus