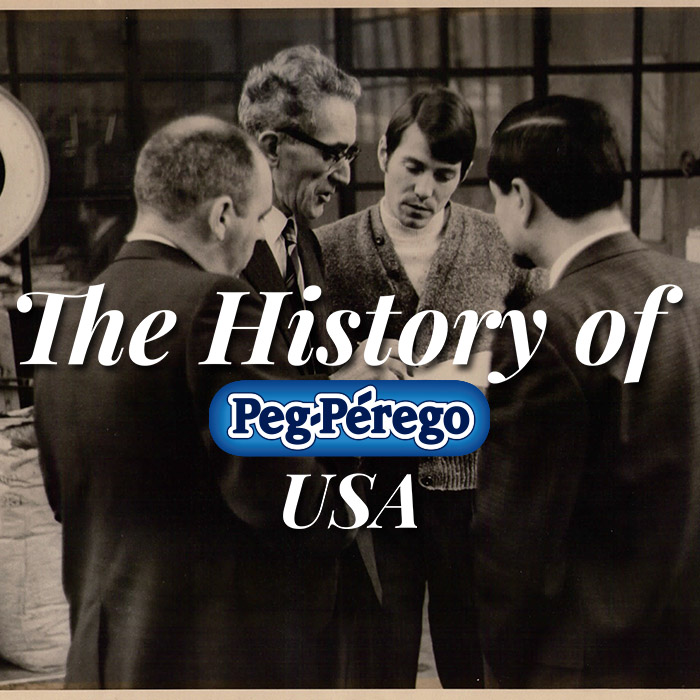 (Pictured above: Giuseppe Perego in Fort Wayne discussing the new Peg Perego facility)
Our beginnings in Arcore, Italy have been well documented, but did you know that Peg Perego has had a presence in the US since the 1960s? Well, here's a little history lesson for you!

After having great success in Europe, Peg Perego decided to start distributing strollers and carriages in the United States via New York in the early 1960s. At this location, popular strollers and baby products were distributed throughout the US. Soon, a clever idea and company growth led to the next chapter in Peg Perego USA's history.

In the early 1960s, Peg Perego introduced a line of pedal-operated children's riding vehicles to enhance the seasonal nature of the carriage and stroller business. Engineers from Peg Perego thought to replace traditional pedal-power and rust-prone steel construction with rechargeable batteries and durable, injection molded plastic -- therefore redefining the market. This led to the creation of a new company, Pines of America, to service the demand of the growing US market. Wanting to be closer to their rechargeable battery supplier, Pines then opened a facility in Fort Wayne, Indiana.

Fast forward to the late 1980's, Pines of America had been sold earlier in the decade, so Peg Perego decided to bring the baby business from New York to Fort Wayne. Sensing increased demand for children's riding vehicles, the company decided to reopen this line of business, now under the Peg Perego name. To this day, Peg Perego continues to operate out of Fort Wayne.

The current Peg Perego USA headquarters includes a manufacturing component that is capable of producing up to 4,000 units a day, a full in-house customer service center, a distribution center, warehousing and business offices.

Although many things have changed throughout the years, Peg Perego remains a family-oriented company committed to providing the best products to the world's families.
blog_label_posted_in: News, Baby, Toy
blog comments powered by

Disqus