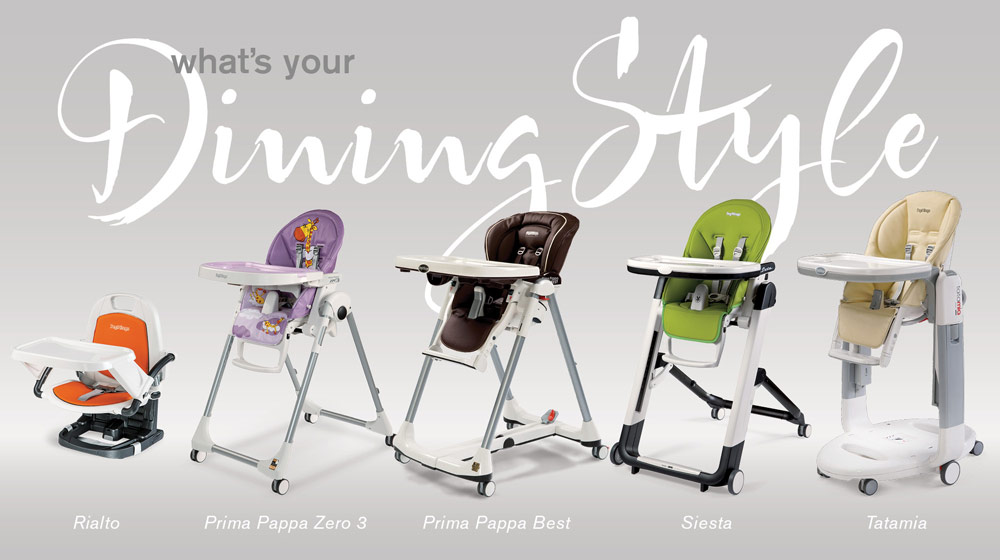 Even the youngest foodies deserve to dine in style. At Peg Perego, we couldn't agree more! To cater to all those discerning pint-sized palettes, our design team is constantly working to create a range of feeding chairs designed with your unique preferences in mind.
From the superplush comfort of Prima Pappa Best, to the Rialto with all its pep and portability, you're guaranteed to find "the one" that perfectly suits your darling dining companion. Take a peek at what each Peg Perego high chair brings to the table (in addition to fine Italian craftsmanship and iconic good looks, of course).
See a style that suits your little one?
"The Celebrity," the Tatamia is a multitalented workhorse that landed a guest appearance on The Ellen DeGeneres Show. This versatile seat transforms from a high chair to a recliner, and even a swing! To boot, Tatamia's space-saving footprint makes it easy to roll from room to room.
"The Nap Specialist," the Siesta is a pro at transitioning from feeding time to naptime. It features 150-degree recline so that little one can kick back without a trip to the nursery. The Siesta adjusts to nine different heights and three footrest positions to accommodate frequent growth spurts.
As "The VIP," the Prima Pappa Best combines luxury and comfort. Its tailored, buttery-soft "Prima Classe" upholstery lends upscale flair and first-class flourishes. In addition to no-scratch rubber wheels, adjustable recline and seven height adjustments, you'll appreciate its little extras like the adjustable footrest and handy storage basket.

"The Mini But Mighty" best describes the Prima Pappa Zero 3 and all its compact, lightweight glory. With a full recline, it's a cozy recliner for newborn until little one's ready for high-chair action. With the Prima Pappa Zero 3's removable tray, baby can scoot up to the table to dish up supersized smarts and talent.

Our "Mover & Shaker," the recently debuted Rialto, is a lightweight booster that goes with and grows with your child. With six height adjustments and a collapsible, easy-to-tote design, the Rialto makes perfect sense for those with places to go and peeps to meet.
Want to learn a little more? Go to our High Chair product page by clicking here. We hope you'll find just the right fit. Buon appetito, baby!
blog_label_posted_in: News, Baby
blog comments powered by

Disqus