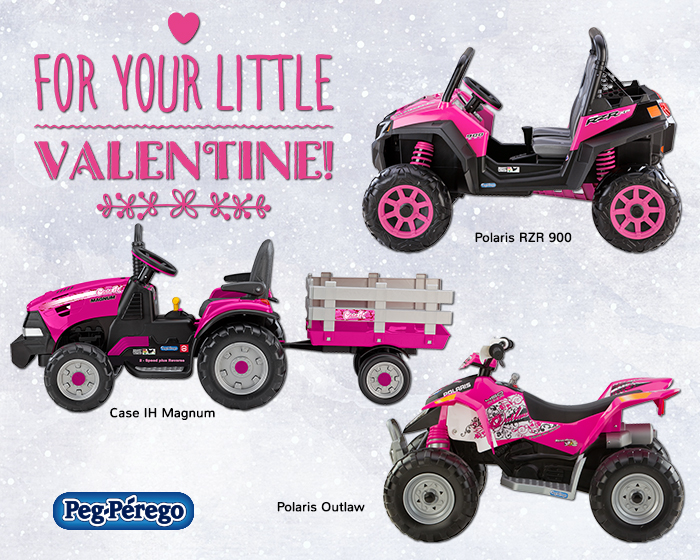 In recognition of Valentine's Day weekend, we're celebrating our little sweethearts with an ode to pink. Three exciting vehicles in our lineup – Polaris RZR 900, Case IH Magnum and Polaris Outlaw – are available in a thrilling pink color that is sure to appeal to your young rider. Take a look below to find out more about these pink beauties!
For your little cutie who wants to take along a friend, the side-by-side seating of the Polaris RZR 900 in Pink is the perfect way to travel. Fun pink accents on the hubcaps, steering wheel and decorative shock absorbers counteract the sporty design of the RZR. Plus, the adjustable seats of the vehicle give little ones plenty of room to grow.
Have a future farmer in the making? The unique Case IH Magnum in our popular pink shade is sure to be a hit. This 12 volt beauty includes a matching stake-side trailer, perfect for hauling sticks, rocks, stuffed animals, dolls…you get the idea! A front counterweight and smokestack add realism to this one-of-kind look.
For four-wheeling fun, take a look at the Polaris Outlaw Pink. One of our most popular children's riding vehicles, the Outlaw's true to life details (shocks, fender and more!) give it a sporty and playful look. Throw in the intricately designed decals, and this ATV with attitude will be the hottest ride around.
Be sure to take your little one's Valentine's Day fun to the next level with this fleet of pink vehicles!
blog_label_posted_in: News, Toy, Playing Favorites
blog comments powered by

Disqus