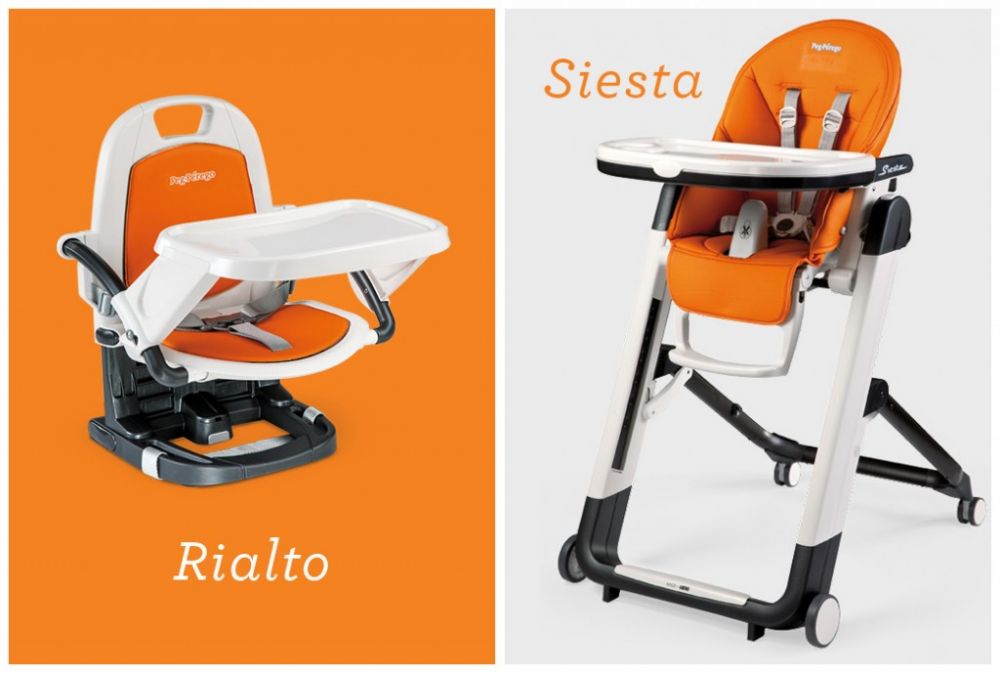 Dine in or carry out? Whatever you are in the mood for baby will always have the best seat in the house, thanks to our two newest dining chairs: the Siesta and all-new Rialto booster.
The full-featured Siesta is our new go-to choice for an everyday high chair. This multifunctional design has an innovative recline, which means it can be used from birth as a comfortable recliner (perfect for keeping baby close by at mealtime). And as baby grows, it can be used as a high chair for feeding or playing, and then, with its tray removed, it can be used as a safe seat for your toddler to join you right at the table. Our other favorite features include the Siesta's:
Buttery-soft "Prima Classe"-upholstered seat that cleans easily with a damp cloth
Adjustable seat that moves to nine different heights
Adjustable, three-position footrest
Five-point safety harness and passive restraint bar
Comfortable five-position seat recline
Practical rubber storage net on the back of seat
Mar-resistant wheels that automatically lock for safety
Stop & Go system that makes it easy to move from room to room
Extremely compact stand-alone fold
The Siesta has has a sleek, sophisticated design and comes in five beautiful saturated colors: Arancia (orange), Noce (beige/tan), Mela (apple green), Licorice (black) and Cacao (chocolate brown).
Our other new go-to is the brand-new Rialto booster chair. This chair was made for travel, but it is also a quick and easy (and space-saving) option for home as well. It's only been for sale in the U.S. for a few weeks now, and it's already flying off the shelves. Why is it so popular?
The Rialto will work on almost any chair, and installing it is a snap, thanks to its dual attachment straps that connect behind and below the dining seat. Plus, it comes with its very own travel bag and can be used with children 9 months to 3 years of age. We also love the Rialto's:
Super-compact fold
Five different height positions
Three-point safety harness
Non-skid rubber pads that keep it in place
Removable tray
The Rialto comes in three colors: Arancia (orange), Mela (apple green) and Licorice (black), and it features beautiful (and wipeable!) faux leather in its seat and trim.
Have questions? Please ask. We'd love to help. Buon appetito!
blog_label_posted_in: Baby, Collection 2013, 2013 Rialto, 2013 Siesta
blog comments powered by

Disqus