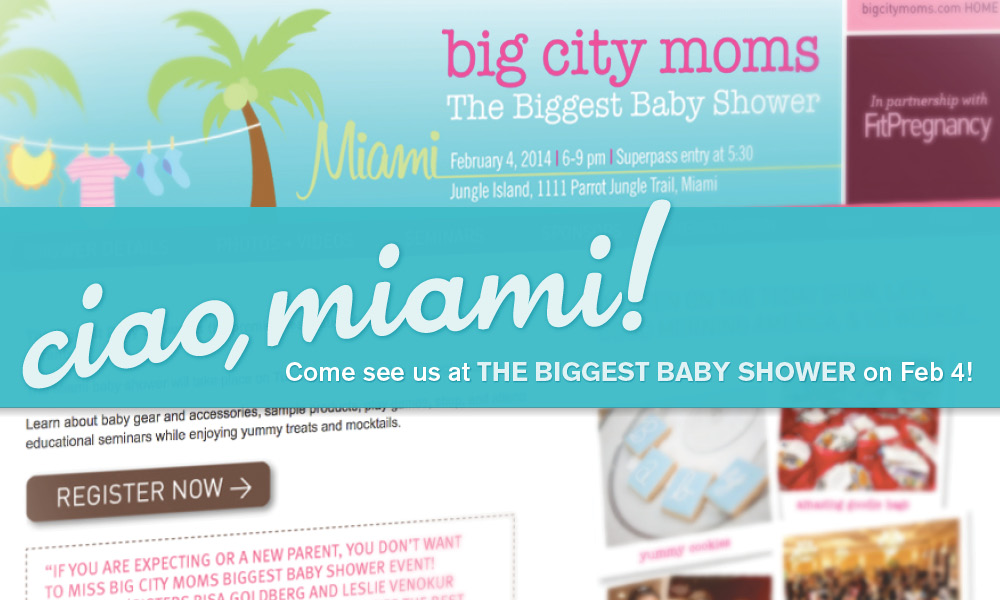 We're gearing up for fun in the sun at the Big City Moms Biggest Baby Shower Ever in Miami! You've caught us packing our travel-friendly gear (and maybe that cute new swimsuit) and getting ready to unveil fabulous new Peg Perego styles and colors.
Mark your calendar for Tuesday, February 4, and come see us at Big City Moms! We're excited to rub elbows with savvy moms like you — connecting with our customers in one of our fave cities is just how we like to roll!
At Big City Moms, we'll be debuting two long-awaited designs you just have to come see for yourself. You won't want to miss the innovative Book Pop-Up stroller-bassinet system, in all its supersmart, convertible glory. Equipped with a premium chassis, folding bassinet (that folds directly on the chassis!) and reversible seat, the Book Pop-Up serves up comfort and on-the-go style.
As nice to look at as it is functional, the Book Pop-Up will be available in a dramatic Jet finish, in addition to seven other delicious colors.
We'll also be showing off our all-new Primo Viaggio 4-35 infant car seat, loaded with intuitive features and stepped-up safety. Its innovative base with the Right Tight System is easy to install, and the lighter weight (a full 2.2 lbs) makes for greater totability.
With innovative G-Matic anchors, the Primo Viaggio 4-35 docks into the new Book Pop-Up (without the need for adapters!), so you can just park, click and go in style!
Hope to see you on February 4, Miami moms! Stay tuned for more dates and exciting destinations in 2014!
blog_label_posted_in: News, Baby
blog comments powered by

Disqus