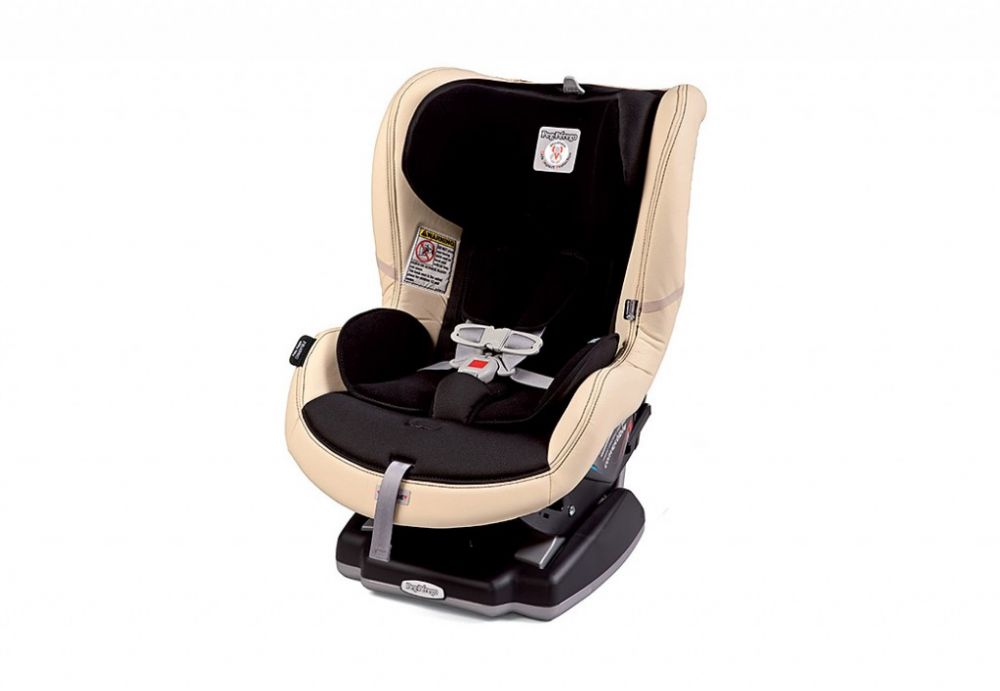 Offering the same safety and style as our celebrated Primo Viaggio SIP 30/30 infant car seat, our Primo Viaggio SIP 5-70 Convertible is quickly making a name for itself all on its own.
Following your little one from infancy through toddlerhood by converting from a rear-facing (for children 5 to 45 pounds) to a forward-facing (for children 22 to 70 pounds) seat, the Primo Viaggio SIP 5-70 Convertible is one of the most versatile convertible seats on the market. But don't take our word for it. Plenty of experts agree …
The editors of Fit Pregnancy included the Peg Perego Primo Viaggio SIP 5-70 Convertible in their 2013 Buyer's Guide, citing:
"The shock- and energy-absorbing foam of the Peg Perego Primo Viaggio SIP 5-70, combined with its side-impact protection, minimizes collision injuries. For comfort, the wide seat and recline options give extra legroom."
The Primo Viaggio SIP 5-70 Convertible also made its way onto Baby Center's Top 15 Baby Products of the Year for 2012.
"Sleek Italian styling (no crazy patterns here!), reliable safety features and thoughtful design make the Primo Viaggio magnifico! A rear-facing weight limit of 45 pounds (the highest on the market) lets you keep your child rear-facing longer. Plus, its shallow front-to-back measurement means more room for the driver or passenger in front and can make this seat fit gracefully into a smaller car. And the harness adjusts in seconds via a pull-tab on the headrest. Other quality features include breathable fabric and a contoured base, for a snug installation in most seats. In a collision, extra-thick shock-absorbing foam in the seat crumples to reduce crash forces in a collision, and a steel plate in the seat reduces forward movement and flexing."
Pregnancy & Newborn Magazine also applauded the Peg Perego Primo Viaggio SIP 5-70 Convertible Car Seat for its top safety features, specifically calling out the seat's SIP.
"The SIP of Viaggo SIP 5-70 stands for Side Impact Protection. This system protects your child's head, neck and spine in the event of impact of the lateral nature. It manages this by allowing you to adjust the seat to 10 different positions. The headrest, recline and shoulder straps all adjust to fit your child. The most convenient part of this perk: You can make all the adjustments you need while your child is sitting in the seat, eliminating the guessing game."
And the best reviews? Well, they've been coming from the very best reviewers — all of you! Real moms and dads on Amazon have given the Primo Viaggio SIP 5-70 Convertible a 5 Star rating. Why? Parents have repeatedly commented on the Convertible's easy installation and fit (in a variety of vehicles), safety features, style and comfort for baby. Read all the reviews (there are more than 75!) for yourself here.
If you have questions about the Convertible, let us know. And if you have the Primo Viaggio SIP 5-70 Convertible, share your own review by commenting below. We'd love to hear what you think!
blog_label_posted_in: Baby, Traveling with Peg Perego, Collection 2013, 2013 Primo Viaggio SIP Convertible 5-70
blog comments powered by

Disqus