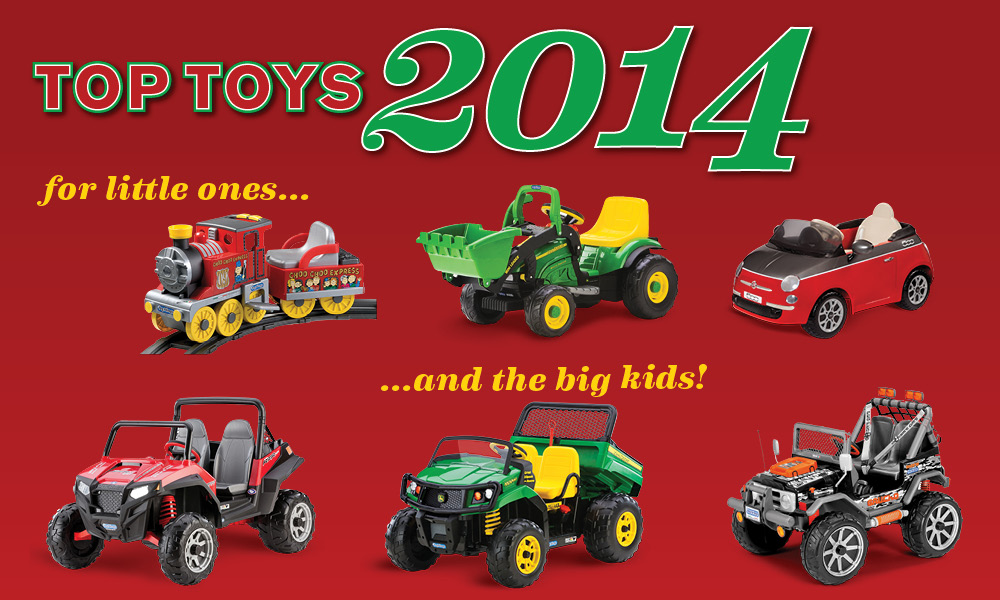 Santa has his list, and you have yours. Let us help you with every child on your "nice" list with our Official Toy Guide for 2014. We've made finding the perfect present for any age as easy as 1, 2, 3!
Top Toys for Little Ones
(1) The Choo Choo Express
All aboard the Choo Choo Express! One of the hottest toys this holiday, the Choo Choo Express is a perfect pick for toddlers who've been very, very good this year. Ideal for children 1 ½- to 3-years-old, this battery-powered ride-on features an on-off button that puts little ones in control, plus a real working headlight and electronic train sounds. It can be used outdoors or indoors, on or off the included 76-inch round track set. It looks especially good around a Christmas tree this time of year!
(2) John Deere Mini Power Loader
A beloved Peg Perego classic, our learn-and-play John Deere Mini Power Loader is a great gift for preschoolers ages 2 to 4. With a real working front loader, little ones can scoop, haul and unload right from the driver's seat. Suitable for indoor and outdoor riding, this pint-size tractor also features an adjustable seat for growing legs, meaning your little one will enjoy this gift long after the holidays.
(3) Fiat 500
Beep, beep! Say hello to the Peg Perego Fiat 500. This flashy gift is sure to look great under any Christmas tree! Our Fiat 500 is the perfect new ride for kids 2 to 6. It features two speeds, 2 and 4 mph, with a second-gear lockout for beginners, plus reverse. It offers real working brake and accelerator pedals, and kids can even stow their travel essentials conveniently under the hood. Plus, it can be used outdoors and indoors, making it a fun pick for inside wintertime fun.
Top Three Toys for Big Kids
(1) Polaris RZR 900
Double the fun this holiday with the Polaris RZR 900. With side-by-side seating, this heavy-duty ride-on is a perfect pick for siblings 3 to 8 years old. The 12-volt Polaris RZR 900 features two speeds — 2 ¼ and 5 mph — and has a second-gear lockout for beginners. The two-speed shifter with reverse allows them to drive on grass, dirt and hard surfaces. The Polaris RZR 900 is available in three colors: racecar Red, hot Pink and brand-new Camo!
(2) John Deere Gator
Another popular Peg Perego ride-on, the John Deere Gator is a longtime favorite of kids everywhere. A great gift for children 3 to 9, this 12-volt authentic John Deere Gator also features two speeds — 2 ¼ and 4 ½ mph — plus reverse and a second-gear lockout for beginners. The best part? Kids absolutely love this realistic ride-on's extra-large dump bed and opening tailgate.
(3) Gaucho Rock'in
One of our newest arrivals, the Gaucho Rock'in, is another fun pick for bigger kids ages 3 to 8. This high-performance ride-on has room for two and comes fully loaded with its rear suspension and rack-and-pinion steering that help your little one tackle nearly any terrain. With two speeds, 2 ½ and 5 mph, and a second-gear lockout for beginners, the Gaucho Rock'in also offers a real working horn, an MP3 input and FM radio and a rear storage net.
From chain- and pedal-drive cars for children as young as 2 to full-powered, 24-volt ATVs for the big kids, we have something your child is sure to love. Check out our complete Toy Collection here. You can use our Store Locator to find a retailer near you, or if you'd prefer to shop online, our list of authorized Online Retailers found here.
blog_label_posted_in: Collection 2014, News, Toy
blog comments powered by

Disqus