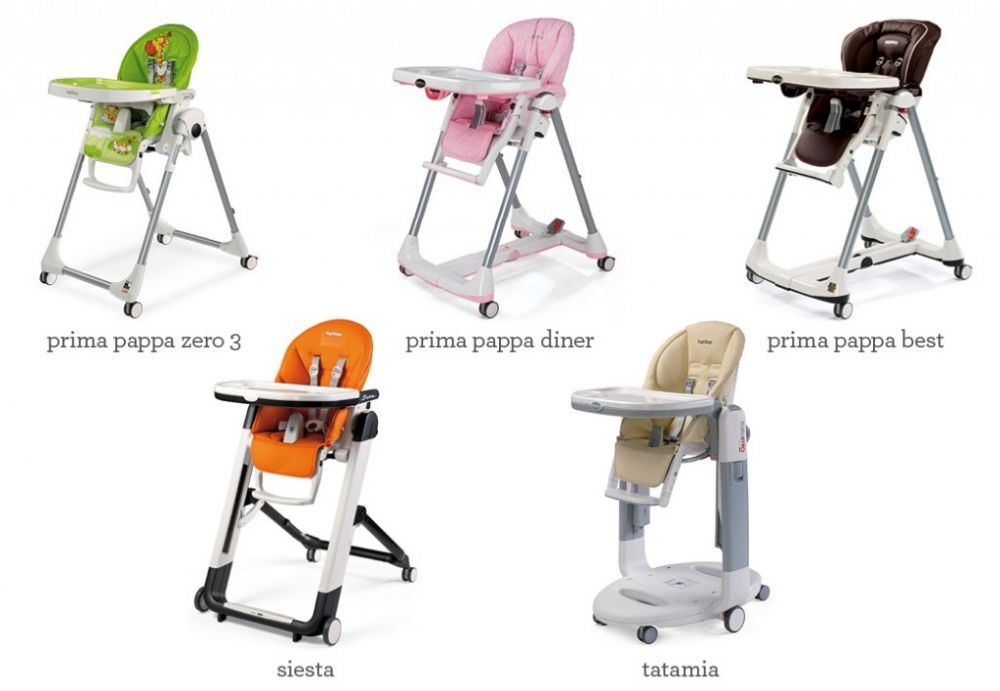 One of the things we're known for at Peg Perego is our high chairs. Modern in design, and in function, we like to think we have one for every lifestyle. Which one of our five designs is right for your family? We're so glad you asked …
Introduced just last year, our Siesta is quickly becoming a beloved favorite, especially among new parents who are looking to give baby a seat at the table right from the start. Truly multifunctional, the Siesta can be used from birth as a recliner and then, as baby grows, as a high chair for feeding, playing and resting. A removable tray and multiple height settings allow it to be pulled right up to the table too, which is perfect for growing toddlers!
The Prima Pappa Zero 3 is the latest addition to our high chair family. With a full recline, it serves as a comfortable recliner for newborn and then easily transforms into a traditional high chair. Plus with height adjustments and a tray that completely removes, you can pull the Prima Pappa Zero 3 right up to the kitchen table too.
Another high chair with multiple uses is our celebrated Tatamia. This versatile baby seat transforms from a recliner to a swing and then to high chair! And its space-saving footprint makes it easy to roll throughout the house. New parents looking to simplify their home will love the Tatamia.
Our version of the classic high chair, the Prima Pappa Best has a finely tailored, buttery-soft (and stain-resistant!) "Prima Classe" upholstered seat. Plus, it has all the little extras Peg Perego high chairs are known for, like adjustable height, Tilt-N-Space recline and a removable, dishwasher-safe tray.
Another forever-favorite, the Prima Pappa Diner is the original Peg Perego high chair. (Fun fact: The Prima Pappa was the very first high chair on the market to introduce a reclining seat feature!) We've kept it up to date with great upgrades like super-chic, colorful designs and modern must-haves like our dishwasher-safe double tray.
So, which one looks good to you? Let us know. We love hearing your feedback!
blog_label_posted_in: Baby, At Home with Peg Perego, Collection 2013, 2013 Prima Pappa Best, 2013 Prima Pappa Diner, 2013 Prima Pappa Zero 3, 2013 Siesta, 2013 Tatamia
blog comments powered by

Disqus