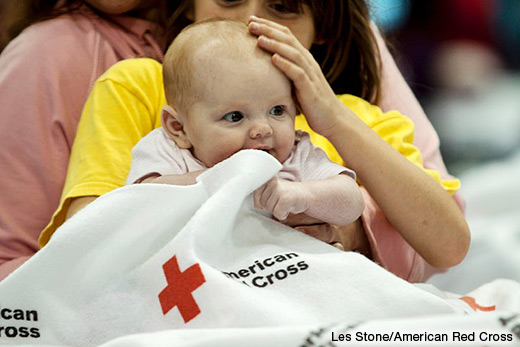 Our hearts continue to be with everyone affected by Hurricane Sandy. We know we have many Peg Perego families on the East Coast, and we hope all of you are safe and well. This week we wanted to use Ciao, Mondo as a place to share information about a few of the groups organizing relief for the families, and specifically children, in need. If you have more information to add, please do so by leaving a comment below.
Baby Buggy: We plan to make a donation to Baby Buggy. We have long loved Baby Buggy for the work it does year-round getting baby essentials into the hands of families in need. The New York-based nonprofit is reporting that more than 2,100 families in its network are from in the hardest-hit areas of Staten Island and the Rockaways. Pressing needs for those families include diapers, baby formula and portable and mini-cribs. To donate these items, and/or your time or money, visit the Baby Buggy website. They've set up a special Hurricane Sandy Relief page from which you can purchase the items needed most, like diapers and formula. There is also an urgent need for warm coats for children. Sizes 0 – 5 are ideal, but they'll take up to size 14. Coats can be shipped directly to Baby Buggy, 306 W. 37th St., 8th Floor, New York, NY 10018.
K.I.D.S. Inc.: Another New York-based organization, Kids In Distressed Situations, Inc. has mobilized its resources in order to get much-needed items, like new clothing, blankets, shoes, toys and baby products, in the hands of children and families affected by Superstorm Sandy. While K.I.D.S. only accepts brand-new products for donation, you can still help by making a cash donation. Visit their website to learn more, or to donate $10 to K.I.D.S., simply text GIVE 8000 to 80088.
American Red Cross: The American Red Cross is in communities right now providing aid to the thousands of families affected by Hurricane Sandy. Shelters are open in multiple states, and workers have been driving up and down neighborhood streets in Long Island, Manhattan, Staten Island, New Jersey and West Virginia with hot meals, toiletries, blankets and cleanup supplies. To support the Red Cross in its disaster relief, visit redcross.org, call 1-800-RED CROSS (1-800-733-2767) or text the word REDCROSS to 90999 to make a $10 donation. You can also use the "donate" feature on the free Red Cross Apps for mobile devices to support this relief response. Contributions may also be sent to local Red Cross chapters or to the American Red Cross, P.O. Box 37243, Washington, DC 20013.
Looking for even more ways to help? Our friends at Cool Mom Picks have put together a list of more than a dozen ways you can help, many of them local. Check out their list here.
And again, if you have relief information to share, please do so by commenting below.
blog_label_posted_in: News, Big News!
blog comments powered by

Disqus