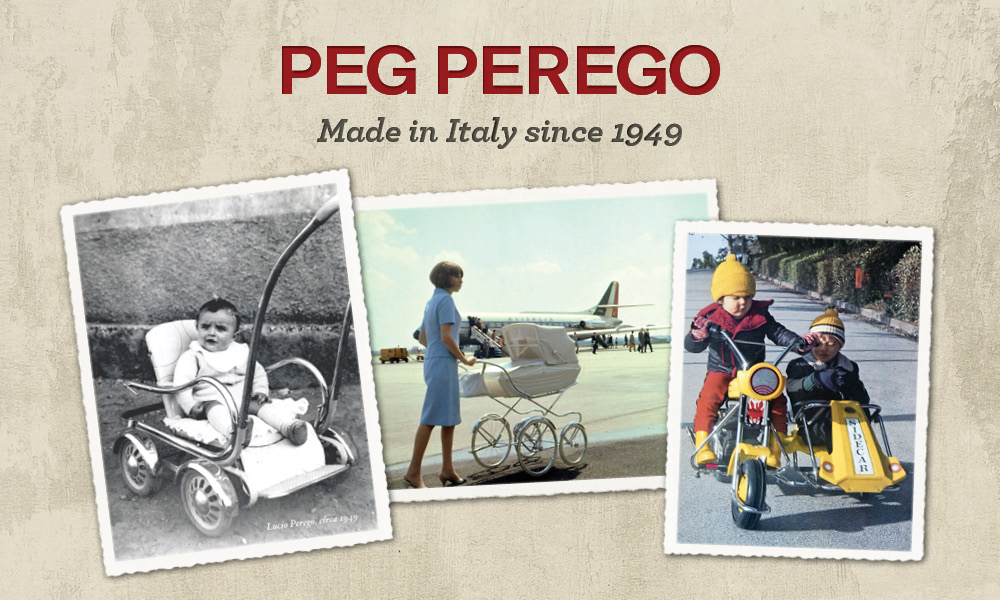 For the past 65 years, the Peg Perego family has been committed to designing products that meet the needs of growing families worldwide. From carriages and strollers to car seats, high chairs and even kid-sized riding toys, we've made sure our products are top-quality and reflect Italy's most sophisticated style. We're proud of our traditions, and we're always creating new ways to make your life with baby easy, comfortable and more stylish.
In fact, that's exactly what our founder Giuseppe Perego was after when he set out to design the perfect stroller for his new baby son, Lucio, back in 1949. Instead of using wicker or sheet metal (popular carriage materials of the time), Giuseppe used rubberized materials to create a convertible stroller that could change from a baby carriage to a stroller with ease. Baby Lucio must have loved his one-of-a-kind convertible carriage because he followed in his father's footsteps and is now the current president of Peg Perego.
The 1960s were a decade of iconic design, especially when it came to groovy baby gear. Peg Perego released some of the safest and sleekest products of the era. Among them were the Brigitte, Carole, Iris and Victory carriages (don't you just love those names?) and the America and Atlantico folding chassis, which made transporting the strollers a breeze. Our very own Infanseat was known as the safest seat in the world, and our Baby-Boy was the very first convertible high chair that was fully adjustable. It even had a removable seat that could be used in the car! Our current line of infant car seats are outfitted with the best and most innovative safety features and are fully adjustable to meet your little one's ever-changing needs, year after year.
Peg Perego began making children's ride-on vehicles in the 1970s. The first ride-on toys were powered with 6-volt or sealed gel-cell batteries. Twelve-volt batteries were introduced in 1982, and to this day, the 12-volt children's riding vehicle is the most popular in the industry. Today, we offer a full line of ride-on toys from fun-sized farm tractors to the supersleek mini Fiat 500. We've partnered with John Deere, Polaris, Case IH and Fiat to bring you the best variety of high-quality ride-on toys that are sure to make playtime fun for years to come.
Now that you've seen a few of Peg Perego's baby pictures, we want you to share yours. Look through your old photos and see if you can spot some vintage Peg Perego gear. Share your favorites with us on Facebook and Instagram with #pegperego. We can't wait to see them!
blog_label_posted_in: News, About Us
blog comments powered by

Disqus