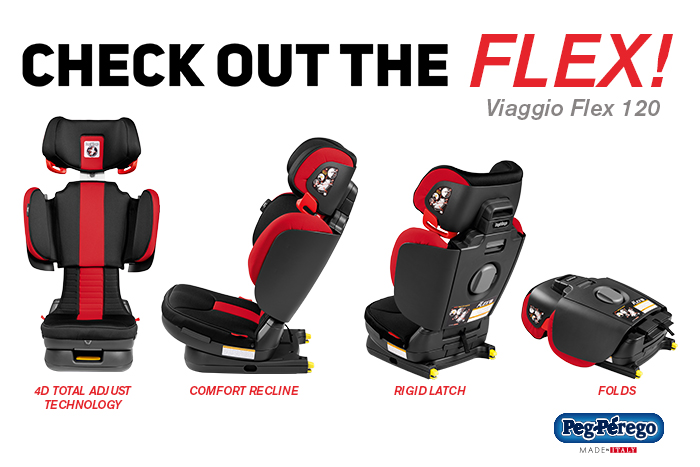 Our new Viaggio Flex 120 is here!
After months of waiting, the Viaggio Flex 120 is here and ready to be introduced to all of YOU. What's so great about the Flex? See below for five reasons for why you'll want the Viaggio Flex 120 as your child's booster seat.
1. 4D Total Adjust Technology
What is 4D Total Adjust Technology, and why is it at the top of our list? The short version: with 4D Total Adjust Technology, the Flex has the complete capability to fully accommodate a child's growth, allowing for a truly original experience in comfort. The long version: The Flex can adjust in four different locations: 1) the headrest adjusts 5 positions vertically, 2) the upper backrests adjusts three positions vertically, 3) the side wings can expand out three positions, 4) the seat can recline 5 positions.
2. Integrated Rigid LATCH
One of the unique features on the Flex is the Integrated Rigid LATCH. This means, that the rigid LATCH, which connects to the anchors in your vehicle, cane be pushed into the base when not in use, or when an anchor is unavailable. This allows the Flex to be adaptable and well, flexible.
3. It Can FOLD!
Need to transport the Flex or pack it in a cramped space? No problem! A pull tab located behind the booster lets it easily fold – even while attached to the vehicle via rigid LATCH.
4. Comfort Recline
Another cool feature on the Flex is its comfort recline, which can be adjusted with child in the seat. The seat is positioned on a track giving it the ability to recline with ease when the front release is squeezed.
5. Safety, Safety, SAFETY!
Built in to the Viaggio Flex 120 is an aluminum-reinforced backrest that protects against whiplash in the event of a front-end collision and provides additional protection in the event of a rear-end accident. EPS is lined throughout the headrest, side wings and seat in order to absorb energy during a crash.
There are plenty more reasons to check out the Viaggio Flex 120. Find the Flex on our website to learn more!
blog_label_posted_in: News, Baby, Big News!, Traveling with Peg Perego
blog comments powered by

Disqus