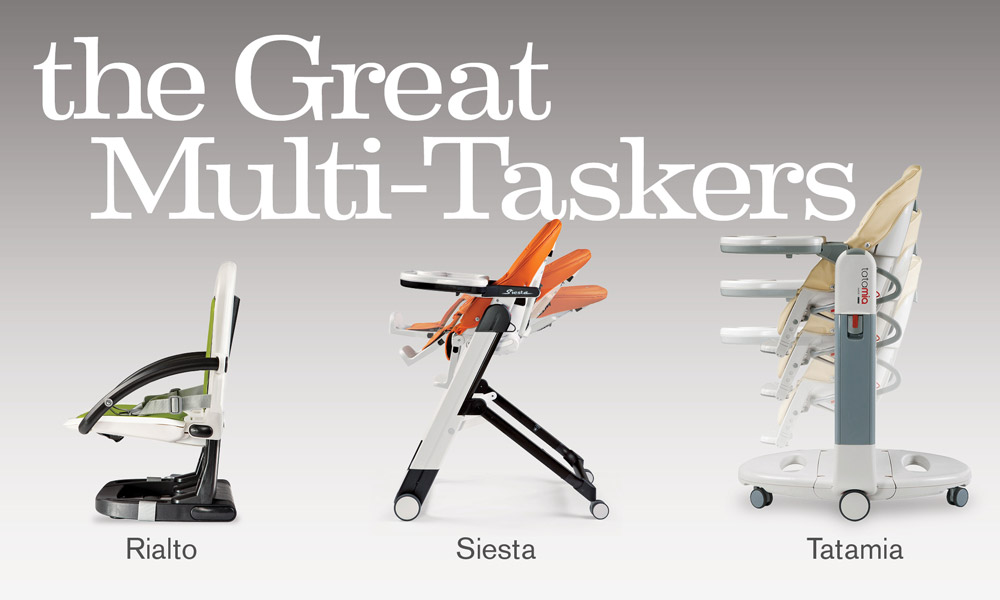 Had enough talk of New Year's resolutions? Then how about a New Year's solution?
Whichever way you want to look at it, here's some friendly advice on how to make your year a little easier and the coming years a little thriftier.
As time-starved parents with a lot going on and very little time to do it in, the thought of minimizing the daily shuffling, adjusting, grappling and restrapping (not to mention eventual upsizing and replacing) sounds like music to our ears. We say, let the baby gear do the multitasking!

At Peg Perego, our Italian design team invests lots of time and research into coming up with creative solutions to make our strollers, high chairs and boosters work overtime. By adding innovative features and more functionality into each unique design, we've created gear that flows with the way your baby rolls.
Does baby prefer a little nap after snack and playtime? The sleek Siesta high chair features 150-degree recline so that little one can get comfortable without a trip to the nursery. As baby transitions into toddlerhood, the Siesta adjusts to nine different heights and three footrest positions to accommodate growing legs and torsos. Look for the Siesta in a new color debuting this spring — cheery Berry!
The Tatamia is the ultimate multipurpose high chair. The compact, collapsible unit transforms into a baby recliner and even a baby swing! It grows with baby up to 30 pounds, and the mar-resistant, lockable caster wheels allow for easy rolling into the next room so Tatamia and baby go everywhere you go.
Our most recent design debut is the lightweight Rialto booster chair with a three-point safety harness and a removable dishwasher-safe folding tray to facilitate dining and play. With six height adjustments and a collapsible, easy-to-tote design, Rialto goes with and grows with your child.

With all the great Peg Perego dine/play/nap solutions to choose from, it's time we let our baby gear do the heavy lifting. This year, simplify baby's routine and your life with the Siesta, Tatamia and Rialto!
blog_label_posted_in: News, Baby
blog comments powered by

Disqus