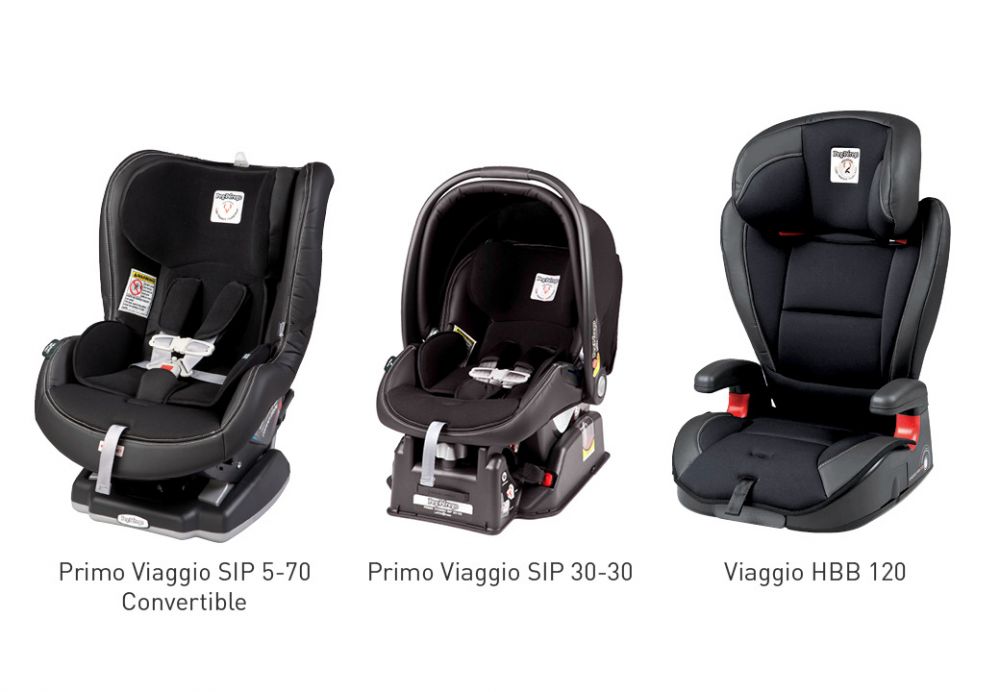 When it comes to car seats, we understand, you want nothing but the very best for your little one.
Last week we marked Child Passenger Safety Week and highlighted the safety of our Viaggio series, which includes the Primo Viaggio SIP 30-30, the Primo Viaggio SIP 5-70 Convertible and the Viaggio HBB 120. All three models exceed the most stringent safety tests in the world and come equipped with today's top safety features, like Side Impact Protection, energy-absorbing foam and LATCH system connectors.
While we put all the very best safety features in our car seats and put them through rigorous testing, it's important to remember that no one seat is "best" or "safest." According to the American Academy of Pediatrics (AAP), "the best seat is the one that fits your child's size, is correctly installed, fits well in your vehicle and is used properly," which brings us to those common "real life" usage questions that parents so often have. For those, we particularly like these straightforward answers that the AAP shares in their Car Safety Seats: A Guide for Families 2012.
Q: What do I do if my baby slouches down or to the side in his car seat?
A: Blanket rolls may be placed on both sides of the infant and a small diaper or blanket between the crotch strap and the infant. Do not place padding under or behind the infant or use any sort of car seat insert unless it came with the seat or was made by the manufacturer of the seat.
Q: Can I adjust the straps when my baby is wearing thicker clothing, like in the winter?
A: Yes, but make sure the harnesses are still snug. Also remember to tighten the straps again after the thicker clothes are no longer needed. Ideally, dress your baby in thinner layers instead of a bulky coat or snowsuit, and tuck a blanket around your baby over the buckled harness straps if needed.
Q: Are rear-facing convertible seats OK to use for preemies?
A: Premature infants should be tested while still in the hospital to make sure they can ride safely in a reclined position. Babies who need to lie flat during travel should ride in a crash-tested car bed. Very small infants who can ride safely in a reclined position usually fit better in rear-facing-only seats; however, if you need to use a convertible seat, choose one without a tray-shield harness. The shields often are too big and too far from the body to fit correctly and the child's face could hit the shield in a crash.
Q: What if my baby's feet touch the back of the vehicle seat [when rear facing]?
A: Your child can bend his legs easily and will be comfortable in a rear-facing seat. Injuries to the legs are rare for children facing the rear.
Q: What if I drive more children than can be buckled safely in the back seat?
A: It's best to avoid this, especially if your vehicle has air bags in the front seat. All children younger than 13 years should ride in the back seat. If absolutely necessary, a child in a forward-facing car seat with a harness may be the best choice to ride in front. Just be sure the vehicle seat is moved as far back away from the dashboard (and the air bag) as possible.
Q: Should my child ride in a car seat on an airplane?
A: Most infant, convertible and forward-facing seats can be used on airplanes, but booster seats and travel vests cannot. The Federal Aviation Administration (FAA) and the AAP recommend that when flying, children should be securely fastened in certified child restraints until 4 years of age, and then should be secured with the airplane seat belts. This will help keep them safe during takeoff and landing or in case of turbulence. Check the label on your car seat or call the car seat manufacturer before you travel to see if your seat is certified for use on an airplane. (Both our Primo Viaggio SIP 30-30 and the Primo Viaggio SIP 5-70 Convertible are approved for in-flight use. For more on this, read Ready for Takeoff? and And We're Off!)
Q: Is there a difference between high-back and backless boosters?
A: Both types of boosters are designed to raise your child so the seat belts fit properly and both will reduce your child's risk of injury in a crash. … Many seats that look like high-back boosters are actually combination seats. They come with harnesses that can be used for smaller children and then removed for older children. Backless boosters are usually less expensive and are easier to move from one vehicle to another. Backless boosters can be used safely in vehicles with headrests and high seat backs.
Don't see your question? Ask us! We'll do our very best to get you the information you need. If you need help installing your car seat, use the following websites to find a certified CPS technician or child seat fitting station near you — NHTSA, SeatCheck and National Child Passenger Safety Certified Technicians.
blog_label_posted_in: Baby, Big News!, Traveling with Peg Perego, 2012 Collection, 2012 Primo Viaggio SIP 30-30, 2012 Primo Viaggio SIP 5-70 Convertible, 2012 Viaggio HBB 120
blog comments powered by

Disqus