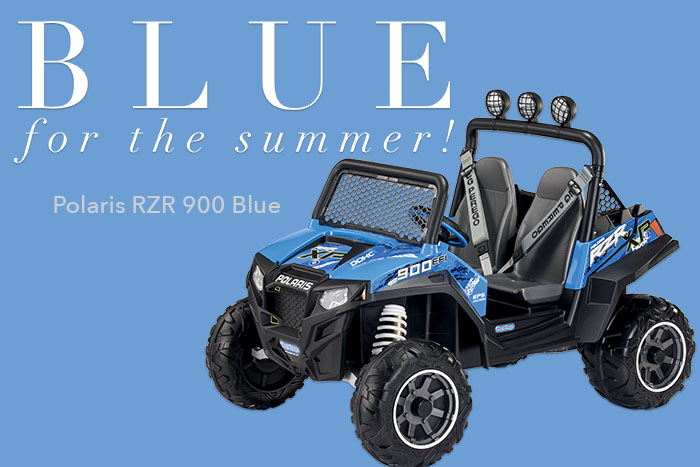 Why the new RZR 900 in Blue will be the hottest ride on the block…
School's out, the weather is warm and playtime is in full swing. If you're in the market for the perfect summer ride for your little one, then you'll want to take a closer look at our new Polaris RZR 900 in Blue! It's got everything a small rider will need to make the most of their days of freedom. Take a peek below at some of the standout features of this cool new ride-on.
Cool Blue Color
The first thing that stands out on the new RZR is the eye-catching blue. Kids will not only love this head-turning hue, but will also be drawn to the aggressive look of the included decal set. White accents on the wheels and decorative suspensions pair perfectly with with this cool blue.
Details, Details, Details
Included with the RZR 900 in Blue are shoulder belts for both riders, a working horn and cup holders. Adding more to the detailed look of the vehicle are the off-road windshield, decorative cam lights and decorative front lights with grill. A large sport bed with tie-down anchors is located in the rear of the vehicle, letting your child haul around a few extra toys on their ride.
Off-Road Power
The 12-volt rechargeable battery of the RZR 900 in Blue plus 2-speed shifter with reverse allows the ATV to travel at speeds of 2.5 and 5 mph. Super traction wheels give the RZR the capability to travel over grass, dirt, gravel or other hard surfaces.
With the new RZR 900 in Blue, summer days have never looked brighter for adventurous little ones!
blog_label_posted_in: News, Toy, Playing Favorites
blog comments powered by

Disqus