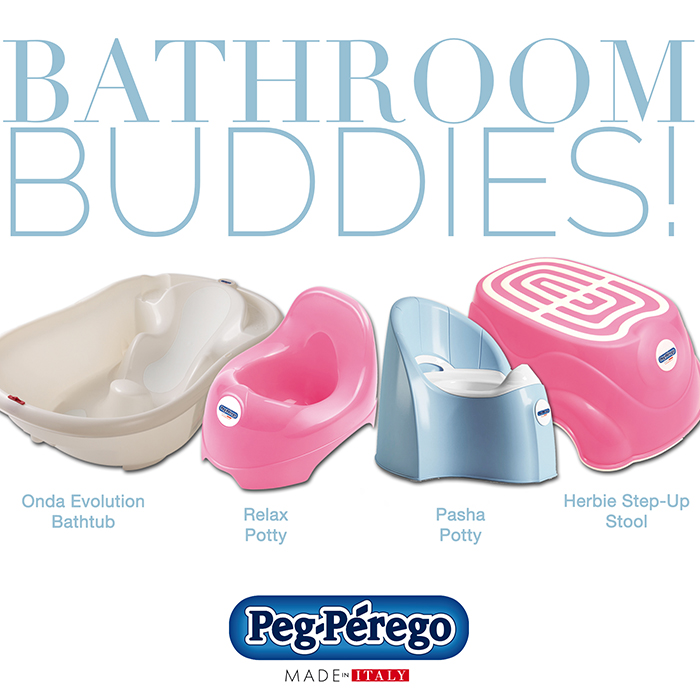 Exciting news! Peg Perego now has a line of bathroom gear, guaranteed to bring personality and fun to your little one's bath routine. Introducing the Onda Evolution Bathtub, Herbie Step-Up Stool and Pasha and Relax Potties!

First up, is the Onda Evolution Bathtub. The Onda (Italian for "wave") contains a double position seat, which allows it to be used from birth, to a year. It has been ergonomically designed to give baby comfort when they are being washed and contains a slip-free rubber seat to keep them in place. A built-in thermometer and maximum water level indicator lets mom and dad make sure everything is just right.

Next, is the Herbie Step-Up Stool. The Herbie contains rubber grips on both the top and bottom of the stool. This keeps the little one in place, while giving them a boost. It comes in three different colors (blue, pink and white) that will add a nice touch to any bathroom. Whether reaching the toilet, or the sink, the Herbie Step-Up Stool will give your little one a sense of independence.

Finally, our tandem of toilets for your toddler. The Pasha Potty has a high backrest, to keep child supported while seated. It also contains a removable receptacle for easy cleaning. Parents will also love the built-in splash guard feature. The Relax Potty is ergonomically designed to give growing children comfort. Its simplicity allows for compactness and ease of use. Both models are available in blue, pink and white.

Want to know where to buy? The entire Peg Perego Bath line is available at Buy Buy Baby.
blog_label_posted_in: News, Baby, At Home with Peg Perego
blog comments powered by

Disqus