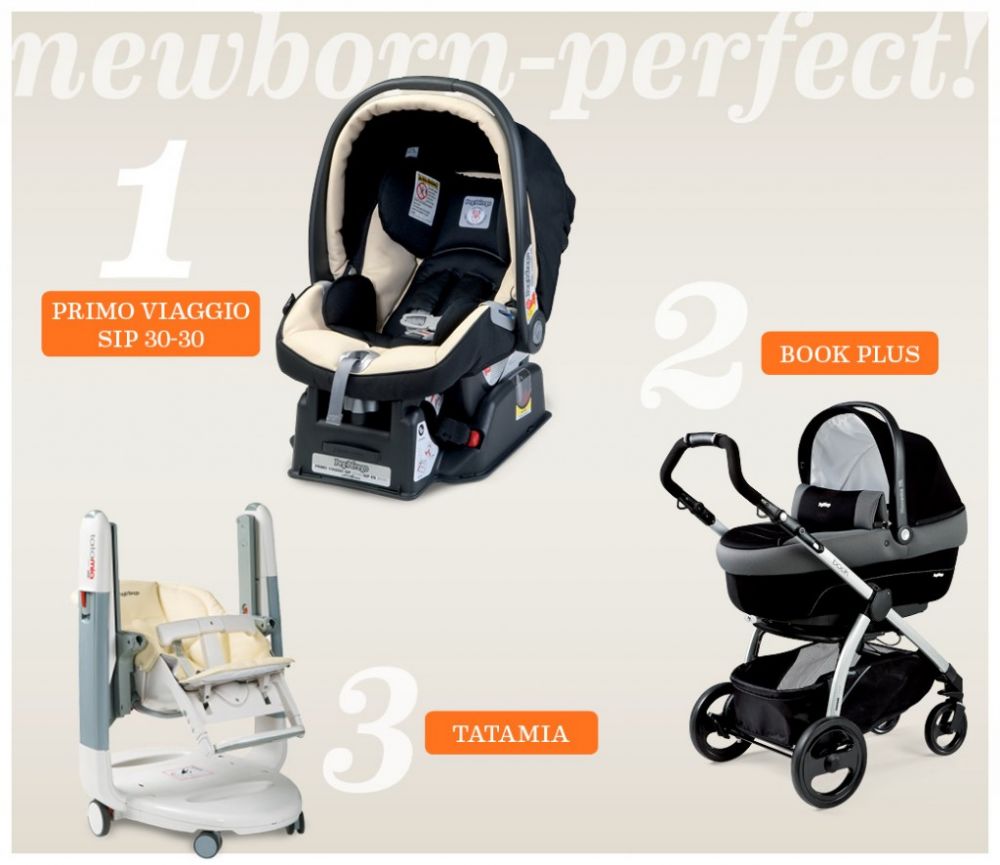 Babies may be teeny tiny, but they sure do need a lot of stuff! Of all the things a newborn needs, three pieces of gear top our list: a car seat, stroller and high chair. So what should you look for when deciding which pieces to add to your registry? We're so glad you asked …
1. Car Seat
When selecting a car seat, the most important consideration has to be safety. Our celebrated Primo Viaggio SIP 30/30 infant car seat exceeds the most stringent safety tests in the world. Designed for infants from 5 to 30 pounds (or up to 30 inches), the Primo Viaggio SIP 30/30 features a Side Impact Protection (SIP) head panel that protects a child's head, neck and spine. This SIP protection easily adjusts to 10 different positions, ensuring a perfect — and safe — fit. The Primo Viaggio SIP 30/30 also has energy-absorbing foam in the shell and head panel that absorbs crash forces, resulting in less force transferred directly to child and minimizing injuries in the event of a crash. Plus, a Shock Absorbing Foam Element device located below the shell crumples upon impact, reducing stress on child's neck and shoulders in the event of a crash. There's also a five-point safety harness and a special removable cushion just for newborns.
2. Stroller
If you're searching for a stroller with a newborn in mind, there are some important considerations. First, you'll need a stroller that offers either a full recline and/or the option of attaching a car seat or bassinet. Most of our strollers are travel-system compatible with our own Primo Viaggio SIP 30/30 infant car seat. And our newest stroller, the Book Plus, accommodates both our infant car seat and our newborn-ready bassinet.
3. High Chair
Since it will be months before your new baby will try solid foods, you may think it's too early to think about a high chair, but a high chair can be a great place for baby at family mealtimes. All of our high chairs have a tilt-in-space reclining seat that's perfect for young babies, even newborns. Our multifunction Tatamia is especially great for newborns because it transforms from a baby recliner to a high chair to a baby swing.
Need help starting a baby registry? Use our Store Locator to find a Peg Perego near you.
blog_label_posted_in: Baby, At Home with Peg Perego, Baby Talk, Out and About with Peg Perego, Traveling with Peg Perego, 2013 Book Plus, Collection 2013, 2013 Primo Viaggio SIP 30-30, 2013 Tatamia
blog comments powered by

Disqus