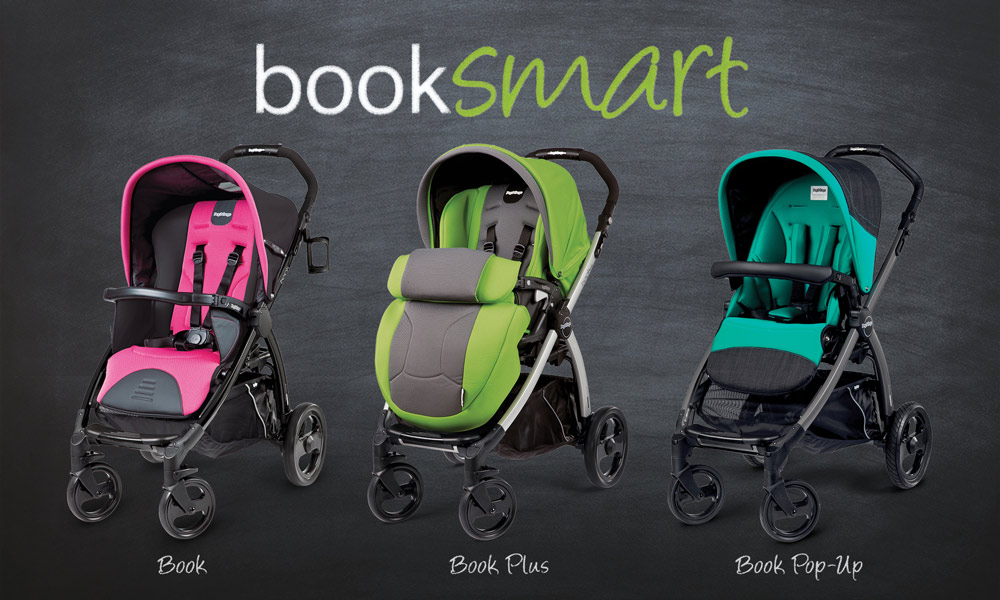 School is back in session, which means it's time to stock-up on all kinds of essentials. Gear up for the new school year with the smartest and most stylish books on our supply list: the Book, the Book Plus and the new Book Pop-Up.
Modern design meets innovative features with our Book stroller. Equipped with a user-friendly, compact fold that allows it to close "like a book," this smart stroller (and all the strollers in our Book product line) closes inward, keeping the upholstery clean and protected. It also stands upright on its own once folded. The front-facing seat has multiple recline positions and a two-position footrest, making it perfect for your growing little one. Create the perfect travel system with our Primo Viaggio 4-35 car seat that easily attaches to the stroller via sturdy retractable anchors.
Receiving top grades for versatility, our Book Plus can be outfitted with special features to customize your stroller and adapt to baby's ever-changing needs. The Book Plus' innovative reversible seat allows baby to face you or the world ahead. Plus, the seat itself reclines to several positions, including a newborn-ready flat recline. An included foot muff turns this stroller into a cozy carriage. You can also transform the Book Plus into a sleek travel system with the Primo Viaggio 4-35 car seat. Or, give baby a comfy spot to snooze by attaching the Navetta XL Bassinet to the stroller's chassis. Trying to travel light? Swap out the seat for the lightweight Practico Seat to transform the Book Plus into a lightweight option that's ready to travel at a moment's notice (it even has its own travel bag!).
Another one of our star students, the Book Pop-Up gets an A+ for ultimate style, comfort and mobility. This three-part system includes a sleek stroller chassis, a supersmart reversible seat and a deluxe folding bassinet. The pop-up bassinet includes an externally adjustable headrest, a hood with mesh inserts for easy air circulation and a removable mattress that's perfect for overnight trips.
The best part about our books is that they feature our favorite character: your baby!
Visit us on Youtube to see each of our Book strollers in action.
blog_label_posted_in: Collection 2014, News, Baby, Accessories
blog comments powered by

Disqus