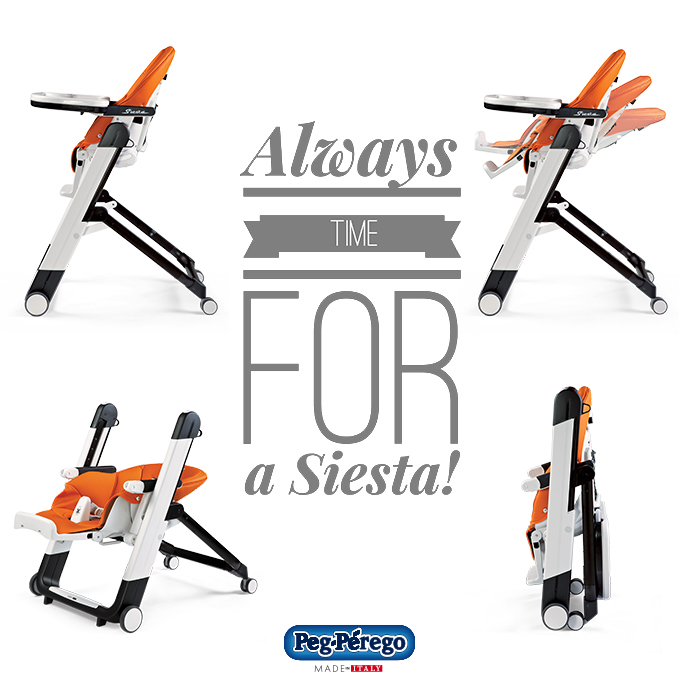 If you're not familiar with our Siesta high chair, then it is time for us to bring you the good news: the Siesta will be the only high chair you will ever need. Seriously. The only one. That means in your house, there's always time for a Siesta!

So why does the Siesta last so long? First of all, the seat has a full recline. This allows for a newborn baby to be able to use it from their very first day. Mom or dad can place baby in the Siesta if they need a helping hand while the other parent is away. Or it can be another one of baby's favorite resting places.

Along with the generous recline, the Siesta also has nine different height positions. Once the little one gets a bit older, you can remove the tray, wheel the Siesta to their favorite room (using the innovative Stop & Go system), set it in the lowest position and let them sit in it as a nice entertainment seat. This lets the high chair essentially grow with the baby.

And on the rare occasions that it's not time for a Siesta, the high chair can fold compactly, allowing you to tuck it away almost anywhere.

We could go on and on about even more compelling features of the Siesta, but we'll leave you with this video to show you why it's always time for a Siesta!
blog_label_posted_in: News, Baby, At Home with Peg Perego
blog comments powered by

Disqus