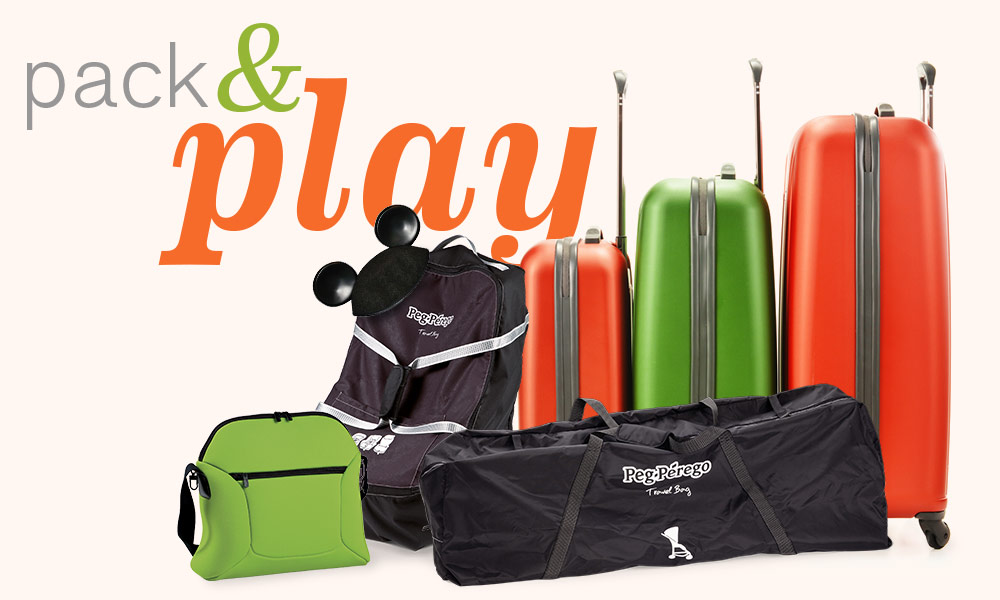 The wait is nearly over. The spring and summer trips we've been counting down to all winter long are finally in sight. And we can't wait to get packing!
But just what should we bring along for baby? We're so glad you asked! After lots and lots of discussion, and countless vacation stories shared, we've come up with our list of all-time favorite travel pieces from Peg Perego. Drumroll, please …
1. STROLLER
The most obvious is also the most important. Picking the right stroller will ensure baby will comfortably enjoy every part of your trip — from surviving long lines at the airport to long walks at the theme park to hot afternoons at the pool. So just which stroller is right for your trip? We like to think we have a stroller for every family (explore them all here), but our short list for vacations includes the Book Pop-Up (an ideal travel system that's especially great for infants), the Pliko Mini (our lightest stroller that's perfect for tired toddlers), and our Aria Twin 60/40 (a double stroller that's a great choice for siblings).

2. CAR SEAT
Did you know that both the Federal Aviation Administration and the American Academy of Pediatrics recommend that when flying, children should be securely fastened in certified child restraints up to 4 years of age? Both our Primo Viaggio 4-35 and the Primo Viaggio SIP 5-70 Convertible are approved for in-flight use, making them ideal travel companions no matter where you're headed. Plus, they're both easy to install, making taxi trips and rental-car excursions easy and (most important) safe.
3. BABY BAG
After the big stuff is handled, it's time to make sure you have all the little things in order (which we all know matter most). Our Borsa and Borsa Soft baby bags not only coordinate ever so chicly with our strollers and car seats, but they'll keep your diapers and wipes, changes of clothes and ever-important snacks right at hand. Both bags feature innovative hooks that attach right to all of our strollers.
And one more quick travel note: Don't forget about our Stroller Travel Bag and Car Seat Travel Bag. Both are true travel must-haves.
So what are you waiting for? Get packing!
Viaggio sicuro (safe travels)!
blog_label_posted_in: News, Baby, Accessories
blog comments powered by

Disqus